CUSTOMER SATISFACTION CERTIFICATE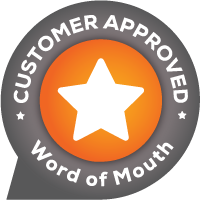 MadFun Kids Disco
5/5 RATING BASED ON 87 REVIEWS
100% of customers recommend MadFun Kids Disco
Customer Reviews for:
MadFun Kids Disco
04 Jul 2021
alexf887
This was easily the best, most stress-free party we've *ever* had. Everything was planned perfectly. The food was done for us (and was absolutely delicious). The activities for the kids were joyous, and the people running the show were delightful. A special thank you to Beanie who is a genius when it comes to understanding what kids (and their parents) will love! PS – even the grandparents can't stop raving about how good this party was! Thanks so much!
 12 Jun 2019
gloriap362
We recently celebrated my daughter's 7th birthday at Madfun. From the first email enquiry I sent Beanie, replies were always quick and informative. On the actual day of the party, May (host) and the team were very obliging with my requests. I was impressed by how organized the venue was set up, eg. designated tables for the cake, lolly bags and gifts. They even provided a string of disco ball lights for the cake table, extra bday candles and sparklers for the cake plus plates and cups for the adults (although I had brought along my own). The kids were pleased with the party food provided and I was thrilled because the team even cut and served the bday cake to the children and adults (my least favorite job). As for the disco itself, all the party guests enjoyed dancing to the amazing music and taking part in the fun games. A lot of the kids also enjoyed the craft activities that were on offer. After the party, a few of the parents said that their girls had enjoyed the party so much, that they want to have their next bday party at Madfun!! Thanks again to Beanie and the team at Madfun for putting on such a superb and fun filled party .
 14 Mar 2019
katee828 from Croydon Hills
One of the best party venues – the first party I have been been able to really enjoy as a host, as everything is taken care of. Gorgeous staff who were so fun, and helped the kids have an awesome time – great face painting for all the kids – and great music that had all the kids dancing and singing along. Highly recommended party venue!
 11 Nov 2018
trishc631
I feel like this place is over rated. No private rooms, no where for the parents to talk. The food tasted like it was frozen. Might be ok for girls under 8 years, Expensive compared to what you get at other play centres.
 24 Oct 2018
neham492
Excellent venue for fun birthday parties!! Everyone absolutely loved the place and the ambience. The host and the DJ were both fantastic and went out of the way to make sure everything went smoothly! Kudos to Beanie and her wonderful team. Would certainly recommend the venue to all my friends! Cheers Neha
 08 Oct 2018
carly-s974
We had a fantastic 5th birthday party here. The whole process of booking and organising with Beanie was easy. The actual party was amazing!! Both kids and parents had a ball. The staff were all amazing, from the face painting to the music, food and the girls running the party. We loved this place and highly recommend it to anybody.
 24 Sep 2018
mandyp313
I would highly recommend Mad Fun Disco for a child's birthday party. I held my daughters 7th birthday here and the party was extremely well organised and a heap of fun. My daughter is still running around saying it was the best party ever. Thank you for making the day so special.
 20 Aug 2018
marissa-w
Face painting added to the dancing experience… most attendees had a great time though a couple of the 8 year old boys were a bit overwhelmed and self conscious to take part (no fault of the hosts) … I would recommend this to girls of any age and boys 7 and under
 14 Aug 2018
jennyq173
Thank you for a wonderful 5th birthday party for Annabelle and her friends. Beanie and the staff were very accommodating to the special needs of our daughter and a few of the guests who have mobility issues. The space worked really well and the kids all enjoyed themselves. Our daughter had a terrific time at her dance party. Great value for money. I highly recommend it!
 25 Jun 2018
effeh
Highly recommended, party host looks after everything. My 9 year old and her friends had a funtastic time! No fuss, Thank You MadFun Kids Disco!
 20 Jun 2018
mellanieh
Absolutely amazing gorgeous venue heaps of food fantastic face painting and craft table.This company is so easy to deal with from the booking to the end of the party they ask if you want photos on the screen or clips we chose clips they found heaps of my daughters favourites even the hard to get. The kids loved the music and the fun age appropriate games. I have had so many compliments about the party saying it was perfect. We had ages 3-76 and everyone had the time of their life. Thanks so much to the amazing team we will definitely be back. If you want an amazing party do yourself a favor and have your function here.
 08 May 2017
aimeev213
MadFun Disco Party is a dream party for all kids and for the host parents! Kids love the set up, face painting, great music and games for girls and boys, I really was impressed with the outstanding customer service by all the Madfun staff and the level of attentiveness, proactive help and consideration was really appreciated and really helped make our party a great success. Comparing MadFun party package per child to other kids entertainment places, this offering has better food, more inclusive offerings and options and more friendly service. This is really good value. Well done to Beanie and her Team!
 19 Dec 2016
annal34
Would recomend to anyone.Great place.Great staff. Music fantastic.Place decorated with colorfull displays. I was so taken from the moment i walked in. Really good.Not too overpriced and the coffee charity just stole my heart. Thank you.and keep going.
 12 Dec 2016
vanessak474
My daughter Maddison and her friends had a fantastic time at Madfun. The staff where great at entertaining all the kids with dance games, face paining etc. It was all very well planned out and run very smoothly. Thanks Madfun for giving my daughter a wonderful 7th Birthday
 02 Oct 2016
donnap643
We had our daugher's 10th birthday party at mad fun. Beanie and team are great hosts – they had everything covered and the party-goers had a blast. Highly recommend !
 30 Sep 2016
megan-m
My 10 year old had a fantastic party with her friends. They were kept entertained 100% of the time. The music was very current and up to date with what the kids wanted to hear. Great service . I'm very fussy but I would highly recommend. !!
 05 Sep 2016
nicolap559 from Ferntree Gully
Amazing staff! My daughter and her friends had a wonderful time and she is already planning her next party at Madfun!!
 21 Aug 2016
susansweetpes
Kids (boys & girls) had an absolute ball at my son's 8th party. Fantastic staff & customer service. Highly recommend.
 02 Aug 2016
narellel325
Just had my daughter's 7th birthday at Madfun, our 2nd party there as a family. Once again, they didn't disappoint. Beanie is extremely professional, as is the whole team. All the children had the best time and it was so easy for us as parents, as everything was taken care of. I would highly recommend Madfun.
 31 Jul 2016
maryam-b
Just had my daughters 10th party at Madfun and they had such an amazing time. Beanie and her team were very professional and great from start to finish. I would definitely recommend this place to anyone who would like a no fuss, fun packed, rocking party for their kids. A+++
 23 Jul 2016
carmel-s
Fantastic staff and an awesome place to have a children's party. Highly recommend it to all our friends and family.
 14 Jul 2016
suew541
Cannot recommend Mad Fun enough! My son had his 5th birthday party here not only did the kids have a ball the adults did too. Beanie was very accommodating right out of the gate. We were able to inspect the facilities before we decided that this was what the birthday boy wanted. No pressure at all. The day could not have run any smoother – everything was taken care of . To my mind you could not wish for a better venue or hosts. See you again soon!
 09 Jul 2016
leisac259
We had our daughter's 12th birthday party at MadFun last night. A total of 18 tweens all danced, sang & did the limbo to their little hearts' content. They all had a fabulous time. Great venue. Attentive & fun staff. Facilities, music, face-painting, food, etc were all faultless. Highly recommend MadFun.
 19 Jun 2016
jon-g
This is a fantastic place for kids to let loose and have fun. Beanie and her staff were very enthusiastic and easy to deal with. We highly recommend this for a party experience.
 18 Jun 2016
melissak859
We attended our first party at Mad Fun today and absolutely loved it. From the moment we arrived until the end, the staff couldn't do enough to make sure everyone was happy and having a great time. My daughter left with a huge smile and now wants her party at Mad Fun. Thanks to all the girls for a great party
 14 Jun 2016
staceyn396
My daughter just had her 7th birthday at Madfun and she had a ball. Beanie and the team did all the work, while I was able to relax and enjoy watching the kids having fun. Thank you MadFun
 13 Jun 2016
SarahL from Upper Ferntree Gully
My daughter had her 5th birthday at Madfun and she and all her friends had the most amazing time. Everything is run so smoothly from making a booking to the way the day is run. I could just sit back and relax and watch all the smiles on the kids faces. I highly recommend Mad Fun disco!
 07 Jun 2016
alisonc951
It was fantastic the kids were all looked after by beanie and the girls from start to finish they did everything. The cost is extremely reasonable but most of all the kids had a great time. As the mum of the 6th year old birthday girl I can't praise Mad Fun enough I look forward to doing it again for my younger daughter. Well Done
 05 Jun 2016
kaths240
Abby had her 10th birthday at Madfun today. It is so professionally run. Beanie and her team are friendly, so organised and make the whole party a special event for the child celebrating. I had to change dates several times and Beanie was so obliging. Nothing was too much trouble. A brilliant party venue. Music was awesome. Food was generous. 10 out of 10.
 11 May 2016
craigg679
Mad Fun helped my Daughter Cathlyn and her Friends celebrate her 10th Birthday in style and left them all saying that this was the best Birthday Party that they have ever been to and Cathlyn was so happy having a disco party with all her friends at Mad Fun and big pat on the back to all the Girls who host the kids you do a FANTASTIC JOB you all deserve a big pat on the back keep up the good work as we will be coming back again for more parties for our kids.
 07 May 2016
donellam
We celebrated our miss Geneva's 10th birthday at Mad Fun today. The service was amazing. The girls were sooooo nice. My youngest son is mildly autistic and as soon as the lights were dimmed he started to freak out. The girls were amazing. Nothing was too hard. They turned some of the lights back on and then he was ok. We were one of 3 parties and everyone was ok. The staff made the party a lot of fun and all who came to our party had fun. I will be recommending Mad Fun to all my friends n family.
 07 May 2016
emilys427
The kids were all amused from start to finish & the party hosts took care of everything. My daughter loved her disco party at Mad Fun!
 12 Apr 2016
Anonymous
Madfun was a great way to celebrate my daughter's 5th birthday with her friends and family. Well organised and with less stress than a home party. The kids were kept entertained and fed and played together while the parents could sit back and enjoy!
 06 Mar 2016
janinem932
We had a private birthday party for our two daughters (8th and 6th) birthdays. They had the best time at MadFun. The venue is so colourful and well set up. The staff are very friendly. They are very professional, everything runs so smoothly, they get all the kids involved, dancing & having a ball, plus the face painting is fantastic. The craft area is a great area for kids to have a break for a bit too. The party food was great & staff had it all organised without us having to worry about a thing. It was all very well planned and the best part was that we only had to turn up and bring the cake. All of the children had the best time. We had so much positive feedback from our friends and family. Thank you Beanie & the team at MadFun, our girls both agree this was the best party they have ever had. Plus the parents had fun & enjoyed a little dance at the end too! 🙂
 29 Feb 2016
corrieb255
A legit dance party for children… Great decor, tunes, activities… Everything is done for you, they serve the food to each child, lolly bags are done, everything happens in a timely manner… Staff were excellent with the kids, overall truly awesome party!
 27 Feb 2016
paulk508
This was the best organised and most enjoyable party that we have had for our son. We were even able to supply our own photos which were displayed during the disco party. All of the children thoroughly enjoyed themselves as did some of the adults who were dancing at the end of the party. Thank you Beanie and of course your lovely staff for making this day so special for our son.
 24 Feb 2016
luisam846
Staff were very attentive to children and to adults requests and needs. Easy to organise and great to deal with. The feedback was that all out little guests had a fantastic time. No request was too much trouble for Beanie or the staff. Thanks so much
 23 Feb 2016
michael-d906
It's a great place for a party the service and the attention given to the children is excellent
 14 Feb 2016
corinab342
We had a private party for our 9 year old daughter. It was a huge hit with boys and girls, a great idea for a boy/girl party. The service was excellent, and we felt that every need/requirement was met with ease. The slideshow of pictures was a great talking point, and the various activities held the kids' attention. Gluten free children were catered for, however a better description of the brand names of foods served on the tables for dietary information would have been appreciated. We had extremely positive feedback from all of the parents and would recommend this facility to anyone. It will be a hard birthday event to top next year! Thanks again for your service.
 07 Feb 2016
ellyv
Genuine care and attention taken to ensure the party was a huge success. Little things like left over food heated up for a big brother who'd come to wait. We would thoroughly recommend MadFun
 13 Dec 2015
pennyh497
Absolutely loved Madfun as a party venue for my daughters 6th Birthday party. Our guests were entertained the whole time, smiles galore! So easy and professional to deal with. Highly recommended.
 12 Dec 2015
Anonymous
Beanie and her team did a wonderful job making my daughters 7th Birthday a hit for her and her friends. The entertainers were great and kept the girls engaged the whole 2 hours! Great party venue jam packed full of dancing and games.
 08 Dec 2015
angelan38 from Mulgrave
Madfun took away all the stress that can go along with organising a large party. All the children had a fun and memorable day!!
 28 Nov 2015
wona from Donvale
Mad Fun was well organised and had the kids engaged for the entire 1 1/2 hours. All we had to do was bring the cake and some adult food! Thank you
 02 Nov 2015
lynnl162
My baby girl had a wonderful 6th birthday party at Madfun. All kids told me that they enjoyed the awesome ball and parents were happy to have fun at Madfun too. Plenty food in the party and a lot of pop musics, Beanie and her group is fantastic and the party was well organized and I had plenty time to chat with other parents and took photos for my baby and her classmates. I will highly recommend Madfun to all my friends who want to have party for their children. madfan2009
 25 Oct 2015
carlenef
My daughter had an absolute ball for her 6th birthday at MadFun. The only downside was it could have gone for longer! Thanks to Beanie and her wonderful helpers on the day.
 24 Oct 2015
donnaj588
It was the best birthday party my daughter has ever had. The kids were occupied the whole time with games and activities the staff were so friendly and professional. Would recommend Madfun Disco to everyone !!
 29 Sep 2015
laurenp31
I had my daughters 7th party here and it was awesome! I did not have to lift a finger. All the staff are amazing. The kids had a ball and were entertained the whole time. Would definately recommend mad fun disco.
 26 Sep 2015
elizabeth-h
Hosting a party has never been so easy!! The hosts were brilliant and kept the children entertained the whole time with games and fun dances. The music was very age appropriate and included songs the children knew from Disney and Pixar movies I.e Frozen and Madagascar. I already have another parent booking their child's party after attending today because they loved it. Thank you so much!!
 21 Sep 2015
suletb
Beanie and her staff are great as well as the venue, all the girls had a fantastic time so much great energy would definitely recommend it. Most girls said it was the best party they have ever been to. My daughter had a fantastic time.
 08 Sep 2015
simonev821
Recently I had the pleasure of holding my daughter's 6th birthday at MadFun. I cannot recommend it highly enough. Beanie and the hosts & DJ were amazing. It was well organised and hugely engaging for 15 5 & 6yo's. Plenty of food. Boys and girls alike enjoyed the party. As a parent I was impressed with the price – and what you got for that price! And my daughter and her friends are still talking about the awesome time they had. Win win
 30 Aug 2015
francesa656 from Templestowe
Highly recommend Madfun – Beanie and crew were very lovely and the kids had a great time.
 28 Aug 2015
gratefulm
All children had an AMAZING time! The venue was perfect for all- with craft tables for kids who just wanted some down time & face painting. Most importantly, the semi structured activities allowed for all the children to transition easily onto the dance floor- the staff were amazing at co ordinating this. One stage a little darling was feeling quiet overwhelmed- they were all over it, handing the child a microphone, stealthily redirecting child from tantrum to singing sensation! Now THAT SPEAKS VOLUMES!! definitely value for money- we will be returning!
 26 Jul 2015
christina-o from Rowville
Thanks so much madfun for making my sons 6th birthday so memorable. We all had a fantastic time and got lots of positive feed back about the venue and the happy staff! We will definitely be returning
 19 Jul 2015
rachitas
Excellent!! Kids enjoyed a lot. It was absolutely amazing. Service was really good and they are so friendly. Definitely will come back.
 19 Jul 2015
pruet
We had a fantastic day at Mad Fun. The kids had a ball. Great music, great entertainment, great face painting, and most importantly…….. no stress for mum. Mad Fun is a fabulous place for a kids party.
 17 Jul 2015
colin-w
My daughter had her 7th Birthday party at Madfun and they all had a great time. Beanie and her team all did an exceptional job on entertaining the kids. Resulting an excellent day. All we had to do was supply the cake and they do the Rest.
 20 Jun 2015
carolynk925
My daughter and her friends had an absolute ball. Everything was taken care of, just had to bring a cake and lolly bags. The two girls hosting really took control of the kids. Actually got to sit down and watch the kids having a great time! Lots of parents commented to me that it's the best and most organised kids party they have been to! A birthday party my daughter will remember for a long time. Thank you Mad Fun!
 15 Jun 2015
katerinam
The staff are awesome and helpful! My girls (4 & 5) had the best fun! Thank you do much for a great day. P.S. Do you do 35th Birthday Parties? lol … will def recommend!
 15 Jun 2015
tanyas551
Wonderful place to host a kids party. Energetic hosts who really make a fuss of the birthday child and get all the kids involved with fun dance moves. Hassle free for parents – all I had to do was bring the cake. Definite value for money.
 15 Jun 2015
yesara
My daughter had her 10th birthday at Madfun over the weekend and everything was delivered as promised. The place looked fantastic, the staff were very accommodating and awesome with the kids. Best of all my daughter and her friends had the time of their life on that stage and that meant heaps to me.
 06 Jun 2015
meganb848
My 6 year old daughter said it was the best part ever. Awesome atmosphere and the kids young and old had the best time. I would definitely recommend Madfun for any age party.
 02 Jun 2015
jacintas342
fantastic venue for a party, my daughter had an absolute blast dancing and singing away at her Madfun disco party (even the parents enjoyed a bit of a boogie 🙂 the staff are amazing and made it a truly memorable day. Thank you so much I will referring Beanie and the Madfun crew to everyone I know. Best party ever 🙂
 01 Jun 2015
natalieo162
bernie and the crew made my 6 year old feel very special.. it was great to just sit back and let mad fun do all the organising.. stress free party for sure!
 25 May 2015
deannew39
My daughter had a lovely time for her 10th Birthday. The staff are fantastic and friendly. So easy to deal with. A great place to party and have Madfun!!!
 25 May 2015
tashf573
This is the second party that we have had at MadFun. Kids had a ball, parents had fun too. Service was excellent! My daughter had a blast and Beanie and the team did all the hard work. Thank you guys!
 10 May 2015
michelle-e from Mooroolbark
Fantastic place, my daughter had the best time, the kids were entertained the whole time, amazing staff, everything was so easy, I would recommend to any parent to have their childs party there, I had a mixture of boys and girls and all of them had a great time, even the parents, thanks Mad fun.
 21 Apr 2015
teresem966
Madfun disco was very fun and a great way for the kids to interact, the food and the service was fantastic. The kids had alot of fun and so did the parents. Also great selection of music. Thanks to madfun was an easy relaxing and fun party.
 30 Mar 2015
fionar839
What an awesome party venue my five year old daughter loved her mad fun party Beanie and the girls were awesome nothing was too much trouble not that they left anything for me to do gotta love that cant recommend highly enough thanks guys xx
 25 Feb 2015
joannab11 from Knoxfield
We had our daughter's 6th birthday party at Madfun last weekend and it was so much fun. It was so easy to organise and book, the venue was very funky, clean and spacious, the service was incredible and everyone had the greatest time. Kiddies were very entertained and absolutely loved it. Even the adults had a lot of fun. Will definitely return in the future. Thanks so much Madfun!!!
 16 Feb 2015
ilzer
Great venue, my daughter had a blast dancing and playing with her friends. The party host is awesome and staff are very friendly.
 14 Feb 2015
jinib1 from Wantirna South
The kids absolutely love it!! Best party they have been to ever!! Thanks so much Beanie and team for making my daughters birthday so much fun.
 11 Dec 2014
kelliel3 from Bayswater
Such an amazing place. My daughter absolutely loved her 6th birthday party. The staff were so friendly and helpful
 01 Dec 2014
mandyp8
This place is fantastic 😃 the kids were kept entertained for 2 hrs with non stop fun…great atmosphere…some of the most amazing face painting I've ever seen….and great friendly staff
 22 Aug 2014
Renos101 from Lysterfield
My son attended a Party here. He had a great time the party was for a 5year old girl in his class. I found the parking was ok, though I think if you were having a big party here it might be a problem. The food was good, the staff were very attentive. I found it was a great "girl" theme but the few boys who attended were not really catered for interms of, there was face painting, very girly colours and picture, he refused to get any done as he didn't want pink or glitter. I did explain to him that he could ask for another picture but he was to shy. The colouring tables were a great idea but again very limiting as to the pictures available and a few star wars, spider man or batman pictures might help the boys out. I also felt that the tea/coffee facilities were a good idea, for the price being paid by the host per child this is very cheap to set up could have been done for free. Overall great idea for a girls party.
 05 Aug 2014
anniem17
The ease of booking, paying deposit and conversing with Beanie regrding party specifics was easy and quick. Highly recommend this venue !! My daughter and all of us had a very enjoyable experience.
 21 Apr 2014
Anonymous from Glen Waverley
My son requested a kids disco party for his 6th birthday and we certainly picked the right place. All the kids had a great time and the staff were absolutely fantastic! Everything was well organised and ran really smoothly with all the kids involved in the various range of activities from the start right to the end. Thank you very much to Beanie and the girls.
 13 Apr 2014
arranc from Knoxfield
We had our son's 7th birthday party and saw that everyone in our party had a great time. The ages ranged from 3 to 7 and every age was getting involved in the great activities planned. Everything was well organised and very friendly staff, our kids especially enjoyed dancing with their friends. Thanks to all at MadFun for giving us HappyFun.
 13 Apr 2014
KateH1 from The Basin
We recently had my daughter's 7th birthday party here, and were the only group in the venue – what a treat, having the whole place to ourselves! All the girls had a fabulous time and really got into the singing and dancing. There was plenty of food and unlimited water and cordial, and the glow-in-the-dark face-painting and bangles were a huge hit. Beanie and Megan went out of their way to make it fun for everybody. The communication from the venue beforehand was friendly and informative, and it was made to seem as though nothing was too much trouble. Tea and coffee is available out the front, and we thought it was a nice touch that the money charged for that goes towards sponsoring a couple of children through World Vision. This place was great – we can't speak highly enough of the venue or the staff. Thanks Beanie!
 07 Apr 2014
carolk8 from Ferntree Gully
When our daughter Sophie decided she wanted to invite her entire prep class to her birthday, we decided to look for somewhere that was entertaining, suitable for 6 year olds, value for money and that parents could stay. Madfun Kids Disco was exactly what we were looking for. Our daughter LOVED it, all her friends (boys and girls) had a fantastic time, their parents appreciated having a table to sit at and we were blown away by the energy and entertainment from Beanie and the other lovely ladies. We highly recommend this venue to other parents. They provided constant entertainment, as well as a craft table for children wanting a rest from the dancing and games. All the children had their faces painted and the food provided was great. We will be going again and since my daughters party I have had several parents asking me their details, as this is now the party their children want to have. Thank you Beanie and ladies for a wonderful memorable party.
 31 Mar 2014
shannonc28 from Dandenong North
We had my daughters 5th birthday party @ Madfun Kids Disco and it was the best. My daughter loves singing and dancing and so did the rest of the kids (all 19 of them). There was another party on at the same time but all the kids had fun together and it was really enjoyable. It had everything, music, face painting, food, space for pressies! Just really well run! And My daughter told us we are the best parents ever! Thanks Beanie and the team!
 27 Feb 2014
courtneyp4 from Ringwood
Beanie and her team helped to make our daughter's 5th birthday party so memorable and fun. Everything was easy and not too much trouble, and it was a great experience for everyone. So much better than having 30 five year olds running around our backyard!! Have already recommended Madfun to friends for their next kids party. Thank you so much!
 25 Feb 2014
saml17
We had a party there late last year and fortunately for us we were the only party there and had the entire venue to ourselves. The staff were very friendly and the games they played were fantastic for their age group. All the information received up until the party was fabulous, and it was everything we expected it to be and better
 25 Feb 2014
bhanig from Glen Waverley
Great place, great staff. My 8 yr old had a wonderful disco party time with her friends at Madfun. All I had to do the cake and party bags. Such an easy way to do a birthday party! Highly recommend for anyone out there who is looking for hazzle free party !
 24 Feb 2014
mariandak1
Beanie and the team at Madfun discos were amazing, they did everything, all I had to do was enjoy seeing my 7 year old Daughter enjoy her birthday with her friends. Will be sure to recommend Madfun it was amazing !
 24 Feb 2014
noniem from Boronia
Kids had a ball, parents that stayed had a dance and had fun. Fantastic that everything is done for you, just had to bring cake but even that was cut and serve, very quickly to kids. Staff are great with kids and very friendly.
 28 Jun 2013
rosetyler from bayswater
this place is great. its a disco in an industrial area. drop the kids off and pick them up at the end. all you need to supply is party bags, a basket for presents and a cake. they do facepainting, games and let the kids have choice of music and karaoke. tea & coffee is at the front for parents if they want it. such a simple way to have a party $25 per child all the mess and noise is made there and no hassle.
Details:
Wantirna, VIC, 3152
Tel: 1300980828
ABOUT Word of Mouth
Word of Mouth is Australia's No. 1 business reviews website. It's the best way to find out what businesses are really like before you use them. All reviews are from real customers (we have several ways of checking), giving consumers a clear understanding of the business' track record.
Businesses on the Happy Customers Program actively encourage transparent feedback and you can be sure you're choosing a business that makes customer service a priority.